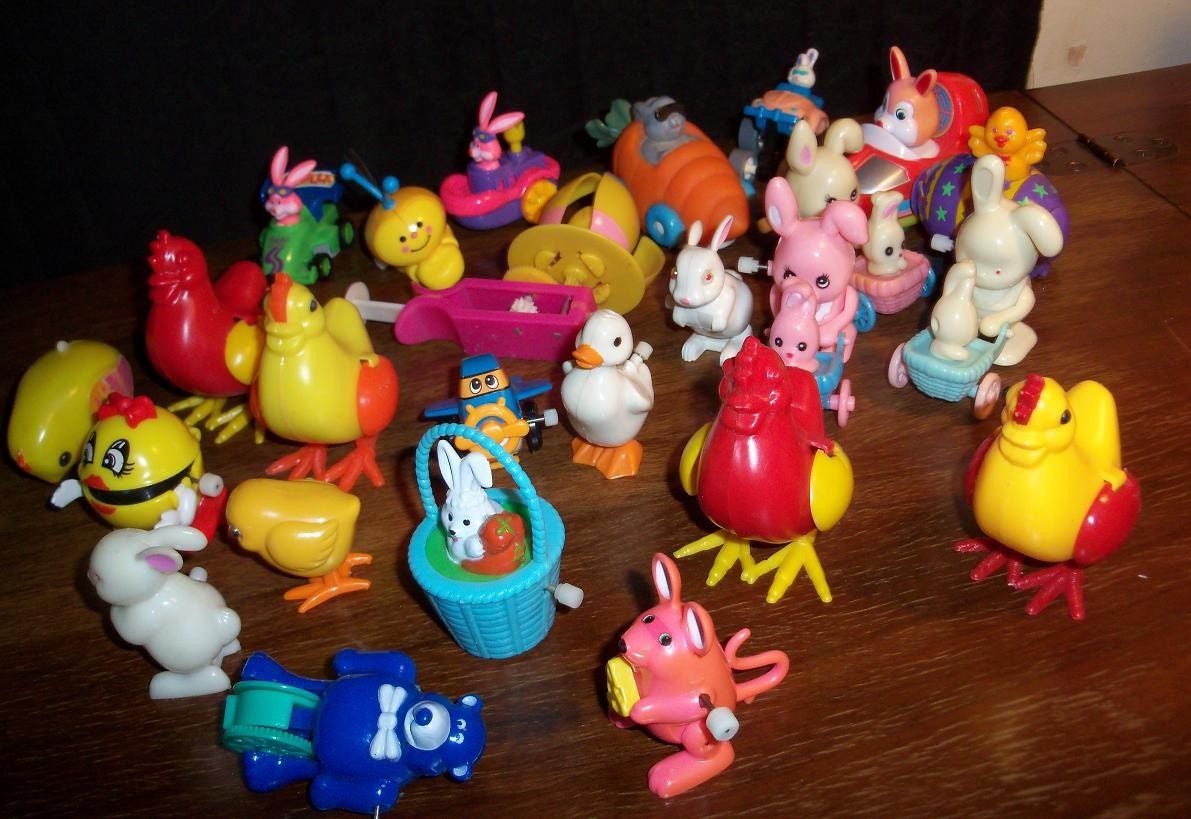 I got this idea because my kids will be starting baseball (t-ball) this spring. They are excited for it. We recently went to Sports Authority just to check out stuff - we didn't buy anything. Baseball crap can be expensive. My 6 year-old made some comment about how I HAVE to buy him a batt and mitt. Do I though? Well - I can't very well say, "Go get a job and buy your own baseball stuff." But I just didn't like his tone or attitude of thinking I need to buy him everything he needs. So on the car ride home, I thought of something - I'm not just going to hand over mitts and crap to them - the Easter Bunny will. The son is right - I do have to buy some of this stuff - but I don't want to let him know that. I could buy it used and I might. But I'm not giving him the satisfaction of knowing I'm just here to buy everything he needs. So I told him I am poor and will have to save up money by May to buy it before baseball starts.
If you want to spend some dough on the kids this season above and beyond candy, here's some ideas for some more practical baskets that the kids will love just as much as assorted crap from CVS and the Dollar Tree. If you haven't stocked up on Easter Basket goodies yet - try thinking outside the normal Easter Basket crap and get stuff that your kids could really use and get them active - if you WANT to give them a bountiful Easter Basket. There is nothing wrong with keeping it simple and little. I'm only putting baseball stuff in my kids' baskets because I NEED to buy them anyways.
Now don't get me wrong - I love CANDY. I am not saying do not put candy in a basket, but one can be conservative with candy (or not - fill that sucker up to the brim with Mini Eggs if you want!) but still have a stellar basket for their kids to wake up to. I just hate all the useless, plastic crap that manufacturers pump out in drones. I don't know why - it just all seems so useless. Plastic crap that breaks, stuffed animals, cheapo games that have a gazillion pieces (that all get lost under the refrigerator). It's all a bunch of crap.
Things you may buy for your kids this spring/summer but can be "brought" by the Easter Bunny:
- Bathing Suit and Towel. Chances are, your child needs a new bathing suit this year. Have the Easter Bunny bring it!
- Soccer Ball
- Baseball Glove & Bat
- Musical instrument
- New markers and/or crayons (and throw away all those gross old ones)
- New books!
- Do you have a little girl who is interested in crafty things? Get her some yarn and a crochet needle and teach her how to crochet!
- Sidewalk Chalk
- Bicycle helmet (because your kid has probably outgrown theirs)
- Beads & thread to make bracelets & necklaces
- Gymp!
- Sand Toys for the beach
- A kids cookbook - and have the ingredients on hand to make one or two things in it.
- A new pet (fish, hamster, bunny, etc.) Remember though - pets aren't cute and they aren't stuffed animals. Before purchasing even the tiniest of pets - they do take work and you have to be prepared to pick up any slack of maintaining and healthy and happy home for them.
The possibilities are endless. Good luck with your Easter adventures! Only 8 days away until the Bunny comes a-hopping along.
***Many thanks to all the comments on
My Facebook Page
to help me create this list!*** Your input is greatly appreciated!