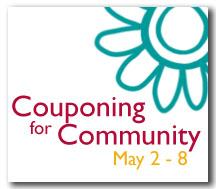 I found out about this really awesome thing Kaley over at
Cha Ching on a Shoestring
is doing (Thanks Michelle at
Wicked Cool Deals!
). This week, she is challenging bloggers to give a part of their stockpile or couponage away to a homeless shelter.
Kaley has organized a "Couponing for Community" event this week, May 2 - 8. You can
RSVP to the event Couponing for Community
that Kaley has organized on Facebook. You are also invited to share comments or pictures of the items you are giving away! This is a great opportunity to go through your stash and find stuff that you may not use before its expiration or to just make room for more of your great deals!
I'm going to take part in this to help purge my cabinets and also by scoring pretty cheap things this week at my local stores. I'll be donating what I have to the
Weymouth Food Pantry
next week during their open hours. I'll post pictures throughout the week of what I have gathered. Is anyone else around here doing this? I don't think you really have to be a "blogger" per se, so donate away!